Products
In addition to providing service and support, Mintra Systems also develops and distributes high quality, professional software, completely free of charge. We find that the trouble with free software available on the internet is that it is either of a very low quality or is not completely free (e.g. has those irritating nag screens reminding you to buy the full version). Mintra Systems have set out to change this by using many different ways to source the best freeware possible:
We look for already completed full products available on the internet that we consider to be of a high quality, and categorise and link to them on this site. This enables anyone visiting to discover what we think are the best free products, and download them for themselves.
We look for source code available for free usage, and compile it into a finished product for end users. If the code is incomplete, lacks a professional interface, or needs help and an installer, we will sort this out before distributing it.
We design and code our own small products from scratch, when we are unable to find anything that will do the job well enough elsewhere on the internet.
We hope to be able to create a resource for freeware where the emphasis is on quality. Poor spelling or grammar in a product instantly gives it an unprofessional feel, and applications always look better with a smart user interface. If commercial software can have complete help documentation, high quality icons and efficient installer programs, there is no reason why freeware cannot also. Mintra Systems products aim to deliver all of these important features.
For the complete products collection, please select one of these sections.
Mintra Systems Products
Software published by Mintra Systems, either programmed from scratch in house or published from free source code available on the internet.
Full 3rd Party Products
Complete freeware programs not published by us, but available for free and considered by us to be of a high quality.
Note: Some products are no longer being updated. However, we will continue to support their use.
Featured product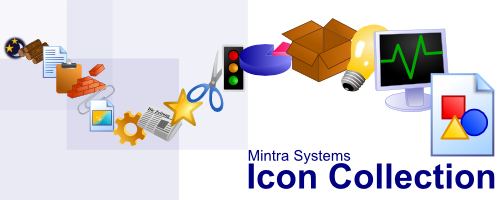 A collection of original, freely reusable Windows XP style icons and artwork